For today's run I tried two new things:
1. The
Nathan Hydration Belt
I picked up earlier this week.
2. Following Jeff Galloway's advise and doing run-walk-run intervals.
First my review of the Nathan belt. It was a no-go. I set out with the belt on and with a great deal of optimism. I was happy to have my iPhone secured in the pack on the back and have my hands free.
Almost immediately though, I knew there was a problem. The belt was very loose on my natural waist. I was more loose than when I tried it on in the store with street clothing. I tried to tighten the belt, but even on the tightest setting it moved around -- a lot.
After running half a mile like this, I was pretty annoyed, plus the belt was pulling a bit on my lower back. I moved the belt down so it was resting at the widest point of my hips and was midway down my bottom. This finally seemed to help a little bit with the moving. Still this was not really a good place for the belt; it continued to bother my back and felt like it might fall off.
After a bit more of this, I decided to run home and drop off the belt. Unfortunately, the hydration belt is not for me. I didn't like the feeling of the movement, even when the belt was lower down. I felt like the weight of the belt was not well distributed and it was having a bad impact on my alignment.
I ended up bringing the belt back to the store for a refund. I am thinking the next step will either be a hand held bottle, which I am not thrilled about, or a
hydration backpack
. A hydration pack seemed like a lot to have to carry around, especially since most hold at least 50 ounces of water, and I need maybe half that amount on my long runs. I am thinking about next steps. Suggestions are welcome.
Fortunately, the weather was very mild today, so I didn't get to thirsty on my 8 mile run. This is my longest run to date.
I have been running the 6 mile, 10K, distance fairly well for some time now but have been wanting to increase my distance to see if I might be able to consider doing a half marathon.
I've been following
Hal Higdon's half marathon training plan
(Novice 1 version). I really like his plan -- I think the schedule works well -- but was having trouble getting my mileage up above the 10K point. On the 7 mile run two weeks ago I had a complete fail and couldn't finish. This weekend, I was ready to do the 8 mile run, having taken last weekend to do the 10K. (I reversed weeks eight and nine of Hal Higdon's schedule to accommodate the Bridge of Flowers 10K.) But I was concerned that this Saturday would be another failure.
I think that Hal Higdon's schedule is great for showing you how much to run and when, but I needed more guidance about what to do on my runs to make them a success. I knew I needed to change something about my methodology so as to be more successful. After 6 miles I was becoming exhausted and couldn't imagine running more, much less double the distance as would be required to do a half marathon. I needed advice.
With this in mind, I purchased
Jeff Galloway's
book
Half Marathon -- You Can Do It
on my Nook this week.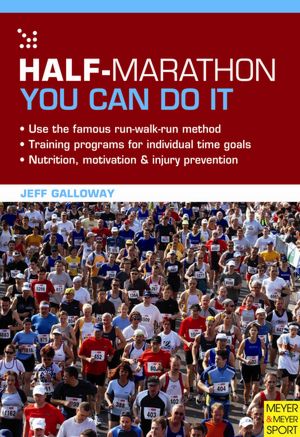 Reading the book, I became familiar with Galloways' Run-Walk-Run method. Galloway recommends doing your entire run with walk breaks. The run to walk ratio varies depending on your speed. Based on what I read in the book and my speed, I decided to try 4:1 run to walk ratio.
Because this was my first time doing this 4:1 run to walk, I decided to try to do it for the entire run with a target goal of just completing the 8 miles I was scheduled for this week. Galloway says that you should take walk breaks early and often in your run. You can eliminate them later in your run if you want to, but there is no reason to do so.
The breaks give you a mental boost and give your muscles time to rest a bit so you can push back the threshold of exhaustion and cover more distance. Also, at the speed at which I run, adding walk breaks should not have much of an impact on my overall time. Finally, taking breaks means that you'll be fresher at the end of your run -- you won't slow down at the end.
I was skeptical that taking walk breaks would make me feel like I was going too slowly or "not really running." This was not the case at all. Today I completed my first 8 mile run in around 1:25 -- my longest run to date. (Plus I also took an extra 5 minutes on either side for warm up and cool down walks.)
While on my run, I decided to see what my 10K time would be with the walk breaks, knowing that I had done a 1:04 10K last weekend. My 10K time with the walk breaks was just over 1:05. Because I was taking time to take walk breaks, my running pace wasn't decreasing over time because I wasn't feeling so tired. I was able to keep a steady 9:45 mile running pace throughout even in the last mile.
Most importantly, with this strategy I was able to complete my run of 8 mile. I did not feel exhausted. In fact, I felt better than I have after 6 mile runs where I ran the entire way, starting with a 9:45 pace and then ending not being able to go much faster than 11:00 per mile.
I like the idea of still doing some runs where I run the entire way. I do 5 mile runs during the week and can keep a pretty consistent pace at that distance. I'll probably continue to just run during those runs.
For the long runs, I like the idea of taking walking breaks. Next time, I might run the first couple of miles straight and then add in the walking breaks a bit later in the run. (Galloway seems to be okay with this.) I felt like I was having to force myself to stop running and walk towards the beginning -- I was fresh and wanted to keep running through the first couple of miles to get in my groove. I'll continue to play around with the run-walk intervals a bit in my long run next week maybe taking out a few, maybe not. I can try to see what works and what feels good on these runs.
Galloway also had some great running drills in
Half Marathon
that I want to try. These drills are to improve speed, form, and consistency of pace. I am definitely a convert to his way of thinking. I was really skeptical that it wouldn't still feel like I was going out for a run if I took walk breaks, but this wasn't a problem at all. During my run, I was running for just under seventy minutes of the entire eight-five minute run. I think that everyone can agree that seventy minutes of running, no matter how you slice it, will still feel like you're out for a run.
I'm very excited by this progress. I felt like I was never going to be able to make it over the 10K distance, and using Jeff Galloway's methodology definitely helped me with this. Because I am such a novice runner, my goals for any race are always just to complete the race without much of a time goal in mind. I feel like having gotten over the barrier with the run-walk method, I can continue to increase my overall mileage continuing to use Hal Higdon's half marathon training schedule. Who knows, I might be motivated enough to even try a real half marathon in the future. We'll have to see...